Index - Being at Home
March 11, 2012
Saskatoon to Rosetown
Recently, a close relative told me about this old mnemonic. When I tell it to you, I think you may see why it becomes easy to remember this sequence of town names. If you would like to remember the names of the towns along the highway from Saskatoon to Rosetown, Saskatchewan, then remember:
Venereal Disease Leads to Hairy Zits.:
Vanscoy, Delisle, Laura, Harris, Zealandia.
January 14, 2012
The Creation Story, with Geometry and Spirituality
Yesterday, I took vacation from work so I could do some schoolwork. Around lunchtime, I decided to take a break. I had a gift card in the bookstore from my Auntie H. which was probably over a year old. It's been a long time since I've allowed myself to go shopping. Anyway, I picked up a book called "How the World is Made: The Story of Creation According to Sacred Geometry" by John Mitchell with Allan Brown.
Regarding this particular blog entry, I worry a little about being hastily judged for being interested in this New Age pseudo-science Hocus Pocus, but I am really attracted to this stuff. I love it. And I KNOW it's not real science unless you can measure it. I can still be interested in it and read about it, right? The same goes for reading from teachers like Penczak, whom I've alluded to before.
Anyway, I was just charmed by this creation story. I was also attracted to the term "Creation Story" because I am an employee at the University of Saskatchewan, which is actively trying to heal relationships and ties to the Aboriginal peoples of this land, where "it" as the U of S contains both the "white man settlers" perspective and the indigenous people perspective, because "we" are all the U of S. But unfortunately the "white man setters" perspective is still dominant and damaging, but is slowly healing, hopefully. Through my privilege as a U of S employee, I have been given opportunities to listen to teachers like Dr. Maria Campbell and Dr. Winona Wheeler. Largely because of my afternoon with these teachers, I was already on track to look for different ways of understanding.
It's too bad that I felt I had to justify before continuing, but, there we have it. On with my point.
Thanking these "teachers", Mitchell, Brown, Penczak, Campbell and Wheeler, I want to share my interpretation of this creation story. Some of the original ideas from these independent teachers have been combined together and reinterpreted by myself below. Wouldn't this be a fun story to tell in a first year computer science or math class?
Thanks to Zwibbler.com for the awesome drawing tool!
Creation Story
Once upon a time, the Creator decided to make the universe and began by drawing a circle to make the boundary of what the universe is. This act also created the first sacred ratio, 1 to pi, or, the ratio between the diameter (=1) and the circumference (=pi).
Then, the Creator made 2 axes.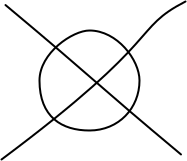 Why 2 axes? Because this is the minimum number to create the next sacred ratio, between the "hypotenuse" and the length of a side of a square. The first axis is just a line drawn through the circle. You can think of this as the hypotenuse of a triangle-to-be, or, also the diagonal of a square-to-be. Pick the one that resonates best with you.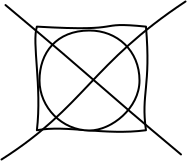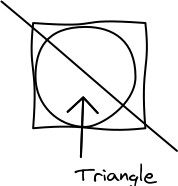 This is also when energy of the universe is divided into the four main elements of earth, air, fire and water, represented by the square. (Note: Everyone knows that there are not literally 4 elements but rather the periodic table with 118 elements. I believe it was Penczak who suggested that you think of the terms Earth, Air, Fire and Water to be more like analogies to the "feeling" of that type of energy, i.e. earth = heavy, steady, home; air = intellectual, abstract; water = emotional; fire=initiation, spark, starting up).
Third, another circle is drawn around this square. Now that there are two circles, inner and outer, this is when "spectrums" were born, like scales with extreme values and values in between: Up/down, Light/Dark, Hot/Cold, Open/Closed, Male/Female, 0/1, etc..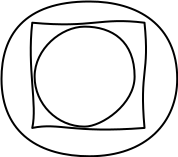 Next, you take our "triangle" from earlier and shrink it so it fits inside the smaller circle. Duplicate it and rotate to make 2 equilateral triangles. The third sacred ratio is between the short and long diagonals of the rhombus. The short line = 1 (i.e. the length of one of the six lines to make the star) and the long line = root 3 (i.e. the distance between two opposite points).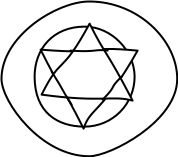 The story keeps going, But that's as far as my brain can handle right now. I feel super pleased because now I have an emotional attachment to these ratios, which I never had before. It can make building up from these for understanding future mathematical concepts easier and more fun.
March 06, 2011
Sarah's Key
This entry is about a book I'm reading situated during the Holocaust. The book is having a strong impact on me!
I am in the middle of reading a book called "Sarah's Key" by Tatiana de Rosnay. It is about a 10 year old little girl in France in 1942 during the Vel' d'Hiv Roundup, where thousands of Jewish families were forced out of their homes toward Auschwitz. The first place where the people were held after being taken from homes was a building called the Vélodrome d'Hiver, which is why the event is called the Vel' d'Hiv Roundup. Many people died in this building due to starvation, (they were forced to stay there for days and were shot on the spot if they tried to leave) no water and horrible conditions.
Last night I gave my daughter a hug and thought about how my family did not have to go through this!
February 25, 2011
Christchurch earthquake
The people of New Zealand are suffering an emergency right now. My supervisor, Dr. Gord McCalla, is visiting Christchurch and was getting ready to teach his first class of the term on Tuesday when the earthquake struck.
I can only think of a handful of events in my own life that have been physically and emotionally traumatic, and none of them were as frightening as an earthquake with dozens and dozens of aftershocks - each of them major earthquakes in themselves.
My thoughts and prayers go to all who have been and continued to be impacted by this disaster!
May 29, 2009
Things I would like to Eat right now
alfredo noodles
rice pudding
chana masala
a baked potato loaded with all the toppings
ginger glazed carrots
salt & vinegar potato chips
polenta
Mmmmmmmmmm!
(No, I'm not pregnant again. =D )
May 22, 2009
The Little Things
My doorbell rang at about 9:30 this morning. I had just finished feeding baby her breakfast, was drinking my coffee. I was still in my pyjamas but thought, "oh well" (after having gone through the indignities of childbirth, having strangers see me in my jammies doesn't seem to have the effect it used to).
So anyway, baby on my hip, I answered the door and it was a delievery person with some washing machine parts that we were expecting. I accepted the cardboard box from him and rather clumsily set it on the floor while he held out the electronic signature thinggy that you have to sign to confirm that you received the delivery.
Just the way he held the electronic thinggy and sturdied it with both of his hands so that I could sign it while holding the baby on my hip -- it was just a moment where I noticed his consideration, this extra effort to make things a little easier for me.... it meant a lot.
And now he is gone to make the next delivery, and I will probably never see this person ever again in my life, but hope that someone does something nice to brighten HIS day in return.
April 06, 2007
Wood Screws
So, my husband and father-in-law are putting in a new electrical drop in our basement to accommodate our new deep-freeze.
James calls, "Has anyone seen the wood screws?"
Pa and I look around for a minute, then I shout, "There's some here! Oh, but they're metal."
....
(Yes, Stephanie. Wood screws are designed to be used when working with wooden material. The screws themselves aren't actually made of wood.)
James says, "Steph, if you could go and get us a couple of sodas that would be great."
LOL
January 08, 2007
Life in 2007 is Good
On Saturday morning, I
Yes, life in 2007 is good. =)

*** 'Impressed with Tassimo system: I wasn't paying attention and I neglected to re-fill the water resevoire as it became near-empty on my previous cup of coffee. So, this morning when I went to make my cappuccino, it ran out of water part-way though the brewing process! Here's what impressed me: When I re-filled the tank, the machine re-heated the new water, then added the correct amount of remaining water to my half-cappuccino. I was expecting it to want to "start over" and add 1 full shot of water, but it was smat enough to realize what happened. Cool. =)
October 17, 2006
Tip of the Day
When cooking, do not replace milk with white wine.
I was making a chicken recipe with a white wine sauce that also called for milk. We ran out of milk. So, I thought, "Why don't I just replace the milk with more white wine?"
Ugh. It tasted weird. I will not be doing that again.
September 03, 2006
2006 Harvest
From our backyard garden, my husband and I have:
(All numbers approximate. I didn't take a formal inventory; rough memory here, folks.)
- 12 carrots
- 12 cobs of corn
- 4 onions
- 1 tomato
- 8 small heads garlic
- several pinches of dill
- 1 bowl cherries (from our tree; we made jam!)
- 1 radish (the rest went to seed early)
- 20-ish hot yellow peppers
- orange mint - 1 small bush, unharvested
- gooseberries - 1 medium bush, unharvesed - ate a few in garden, though
- 8-10 good pods of peas, eaten in garden =)
- broccoli, uharvested - went to seed (bugs ate it)
- potatoes - didn't grow (not enough sun early in the year?)
All in all, it was pretty darn good for our first run. We're having friends over tomorrow to help us eat the corn & carrots. I think I may cook some rice with a little of the garlic and the onions. We'll serve with BBQ steaks. Mmmm!
September 02, 2006
Signs of homeowner experience
My husband and I have lived our house for about 1 year.
You know that you're becoming an experienced homeowner when, on a bright Saturday afternoon, you step outside to take out the kitchen garbage, and upon the summer breeze you catch an unnatural scent.
"Ah - deck stain," your brain concludes. "- as opposed to latex paint, which would have thicker undertones."
Two years ago, I would have never thought that I'd have any familiarity with home renovation products. Today, we have a stained deck and a stained fence. Our walls indoors are coated with latex paint.
August 13, 2006
Sunday stroll
Today, James and I did as we oft do on Sunday afternoons: we walked along the street behind our house, taking photographs along the way.
I carried our water bottle in one hand, feeling the weight of it as it swung forwards and backwards in time with my stride. I swung the water higher and higher; before long, I was making complete revolutions. Then, I shouted,
"CENTRIFUGAL FORCE!"
James chuckled and told me it was a good thing that the bottle didn't go flying out of my hand and hit the neighbour's car.
Here is a picture of me holding the water bottle in question.
It was a lovely day; James posted the photos on his Photocast. Also check out the video and photos on his blog.
May 27, 2006
Battle in the Garden
Saturday, 9:15 AM. I sat down with my coffee, intent on figuring out how to use my delightful new ontology. I glanced out the window to my left, and spotted a small, poofey-grey dandelion - just threatening to spread her babies into our potato patch.
"Ohhh, no you don't!" I growled, then pounded into my old sneakers and sailed out the back door into the garden. I grabbed the intruder by the head, seeds safely hidden in my fist, and expunged it from the garden forever.
The garden is safe for another day!
Now, back to pedagogical ontologies.
November 19, 2005
I love my new robot
My husband and I bought one of those little round robot vacuum cleaners. Let me tell you, it's the neatest thing ever!!!!!! Now I actually -love- vacuuming. At first it was really fun just to watch the little robot whirr its way around the room and spiraling around obstacles (such as my brother's foot... he was trying to fool it...). Now I just love setting it down, pressing 'on', and coming back later to a clean carpet. I'm impressed with it; it did a thorough job of the room.
We named him 'Dusty'.
It also helped me to appreciate CMPT 317, hehe!
Index to Steph's Notes
Feb. 24th 2007 - Weee! This new part of my website is not an entry, but rather a permanent fixture whose purpose is to "Look Down on All Those Notes With Some Grand Vision of Organization". Wish me luck. LOL
Representing meta-data (fuel) & the different kinds of "hooks" that intelligent systems can use (how fuel is injected into the motor of the engine)

Motivation: Semantic net / Rationalizable to a machine

Technology & Philosophy: RDF, modus ponens,

Predicates, Logic & situation calculus

What kinds of data? - What kinds of meta-data would an AIEd system possibly need, and how is it represented?

task domain knowledge
"is-prerequisite-to"-type knowledge

interactions with learning objects & other learners - (location, composition is-a/part-of, sequencing by restricting navigation, personalization, ontologies for LO context)

lesson plans, curriculum plans, practicing sessions (What is stored, what is generated on the fly? What is remembered?)

How to organize it - When is it stored in a database? Meta-data? Agent memory banks? Protocols? Repositories? XML files? Home-servers? WSDL services? Frameworks? Portable banks? P2P access?

Database of object-agent interactions
Concept of "Home" on a P2P network -- maybe the bulk of a learning object's usage data is on its home server and can be queried using WSDL or something ? Similar homes for each student's usage history, etc. Baggage problem.

Links to the ontologies

referring to a concept/relationship - ex. AgentOwl?

Generation of this data

Rationalization: For use by other AIEd systems
What is generated - discuss items under part I.C.
When it's generated - describe procedural model, which parts of the engine generate what (isa-part-of data, XML feeds, web services, meta data bout groups and collaboration, protocols, examples Friend of A Friend FOAF project)

Technical notes of HOW it's generated: JENA, issues of implementation demo, my Hermione & Ron agent examples, lol
Usage of this generated data - see part IV. A.

Given the engine, who uses it?

Students / Learners / "Me"

instructional planning, student model, pre-requisites, tutoring, coaching, collaboration,constructivism

Teachers / Educators / "Me"

putting together lessons
be able to browse through task domain knowledge in an objective / encyclopaedia format, then be able to pick-and-choose what you need for your students
compose examples, design explanations, pull together diagrams, learning objects, etc. Haystack Relo?

Administration / Governement / Structure / Crowd Control

as restrictions/obstacles/sand pit to the robot in agent environment
can't just have a swarm of students and teachers out there -- need structure of courses, curriculum, objectives, requirements (at least, we do in this day and age!) - Report cards, evaluation, feedback
government, marks, certificates, requirements, funding, curriclum, attendance, delinquent, non-attending, motivation
school''s images, goals, strengths, payroll, HR, security, accounts, permissions, privacy
registration, failed courses

User Environment -- How does this engine work? What does the user see on the screen?

Introduction - Given a background in educational psychology, how does the system present itself -- what does the user see, and were does this data come from? Links to thoughts from part I.)
Task Domain Browsing - Suppose you're you're just idly browsing through the "raw" content. How would it look when it's not wrapped around a learning-context or lesson or tutorial or anything. 'Cross between browsing a raw task domain ontology and browsing a learning object repository.

Cleaning up the data -- Visualizing the data for humans to pick through the task domain and work on it. Suppose the "Subject Expert" discovers an advancement in science and needs to update the "world's" domain knowledge. (I used the "Subject Expert" terminology from Ontologies to Support Learning Design Context - Thanks Chris) How would they make corrections to ontologies and learning objects, or at least point the users of "old" objects towards adopting the newer ones.
"Modes" - Learning & Lessons / Checklist - Homework, Assignments, Courses being taken / Collaborative mode / Teaching mode / Calendar- email -adminisrative mode -- See also the different kinds of scenarios in the ActiveMath system

Evolution of this engine

target some key implementation hooks discussed in part I - design an experiment/demo

scrape a page - (Note, scraping can only give objective data, not in-context dat)
LO repository - related to browsing the task domain?
a learners "To Do" list - where does it come from? Assignments, courses.
sample group scenario
sample teacher lesson planning
sample data "left behind"
sample use of that data

Data mining (for what? lol )

discovery / generation of ontologies - when do you need to hunt for them, and when do you have to have a solidly-known & predictable ontology?

I/O - where it happens, which languages, protocols, which agents perform i/o and when, precepts, actuators

Role Assignments

My Environment Adapts to me

Displaying feedback from the server on JSP pages (Software engineering considerations)

agent negotiations / social structures / ummm... Web 2.0 ?

garbage collection of meta data

Artificial Intelligence & Evolution

open learning environments

Agents, pets, grouping, Community modelling

Protocols - finding groups, cyber dollars, state diagrams (?)
"Community Studies" - graphs & communication hubs, types of communities (free-for-all, hierarchy of authority, etc.)
implications of joining a community - what do you share, which parts of your student model are relevant
Walls & sand traps -- deliberate restrictions as problem-solving for learning
Communication channels - individual-to-individual, individual-to-community, chat channels, agent-only "administrative" communications, ex. requests for related learning objects in a particular community, etc.

Educational/Pedagogical focus (this part probably shouldn't be its own section but rather incorporated into the whole picture, but it's separate for me right now because I'm still only just starting to learn about it.)

Semantics - what there is to talk about in Education

ex. Merril's First Principles of Instruction, linking educational terms to AI terms

Pedagogical skills for tutors -- supporting human *and* artifical tutors

Student modelling - what the machine needs to know about the student, pedagogically-speaking, about learning history/preferences
Roles - Simulated students, Coaches, Tutors, Teachers,